R & G Miller & Sons, Inc.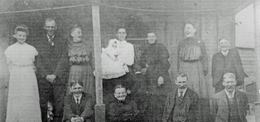 A Legacy of dairy farming that began in 1852, R & G Miller & Sons, Inc. continues to be an innovator, carrying on the high standards established by our great-grandfather, while emerging as a leader in the organic industry. Today, eight family members, along with 6 full-time employees and a few part-time employees, all work together to make the farm a success.
Certified organic in 1997, we have refined our practices to become a sustainable producer of the highest quality milk, marketed through Organic Valley. The 1550 acres of certified organic land we own and rent is used for pasture and to grow crops to feed our dairy herd and young stock, totaling about 800 head.
We are proud of where we came from, the paths we have chosen to get us where we are today and we look forward to what the future may hold. R & G Miller & Sons, Inc. is family farming at its best!